Nicholas Lawrence Presents
$39.95
There is  No Trap Doors, Flaps Or Sliding pieces
At The End Of The Routine Everything is Examinable.. No Way!
A Brand New Approach To This Premise..
I Truly Appreciate You Reserving Your Copy Directly From Me.. Thank You
Limited Quantities, These Will Sell Out Quick!
(Everything Required is Included)

 Perform an incredible solid through solid effect with an ordinary die and just a couple of playing cards. Direct from the mind of one of the modern masters of gimmicks comes a visual miracle that you have to see to believe. This is Die-Abolical Bet by Nicholas Lawrence.
Pre-Order Yours Today And Guarantee Your Copy!
Effect: The magician hands out a shot glass and translucent dice to be examined. The magician removes a pair of cards from the deck and stacks a card on the glass, the die on the card, and the second card on the die. With one swift motion, the magician presses down on the little stack, and the die passes through the card and into the glass. The magician sets up the intriguing tower of objects again, and a spectator is invited to press down, and impossibly the die passes through the card again. The magician then hands out the glass, the die, and the cards for everything to be examined.

Die-Abolical Bet comes with precision-made gimmicks that make this solid through solid effect possible. There are no flaps, trap doors, or sliding panels. The clever principles in play allow your audience to see the die clearly on the card while surrounded, and yet it still passes through the card. As a bonus, you'll also learn a kicker ending where you apparently show a hole in the card the dice must have passed through, only to reveal that the hole has transformed into a black sticker and the card is completely solid. Along with the expertly taught tutorial from Nicholas Lawrence you will receive multiple gimmicks to perform this trick again and again. Perform one of the most stunning solid through solid effects with ordinary objects. This is Die-Abolical Bet by Nicholas Lawrence.
Pre-Order Yours Today! 
Nicholas Lawrence Presents
$9.95
A deceptively simple method to MELT away the Card Box visually, leaving you with nothing but an ordinary deck of cards!
• No Flaps
• Easy to Make
• No fragile or hard to find materials
The gimmick is easy to use, and Nicholas' instructions will turn you into a master in no time. EZB is, as the name suggests EASY.

Despite looking like there may be sleight-of-hand involved, It's surprisingly very easy to learn and perform within minutes.
Nicholas Lawrence Presents
$29.95
The Hornet Gimmicks give you the ability to visually Transpose, Vanish, Appear, Restore and even Teleport small objects in a blink! ….. all while showing your hands completely empty!! WHAT?!
A SHORTER DESCRIPTION IS WHAT IT CANT DO!
 (No sleeves, Reels, Threads or Fragile materials)
2 Gimmicks are included, The Hornet can be setup and used in different ways, this gives you more options when choosing your performing style.
Handmade by Nicholas Lawrence
They're durable and will last for years!!
 W H A T S    I N    T H E    B O X ?

• 2   Hornet Gimmicks
• Additional Materials
• 30 Minute Tutorial 
Coin Fly - One coin routine where the coin visually and impossibly jumps from hand to hand, cleanly showing both hands and only one coin! The coin can be examined before and after, No switch.
The Flash - Restore a torn corner from a signed card in the most visual way possible. The card can be examined before and after, No switch. 
ABC Gum - A chewed piece of gum and instantly restores into a brand new examinable piece.
+ Bonus Ideas & Applications
Besides the unique effects taught, These gimmicks will spice up the tricks you already have.. Bring New life to what you already perform!
ENDLESS POSSIBILITIES! 
The Hornet is ideal for objects like…
Coins
Keys
AirPod
Torn corners
Soda pull tab
Gum/Candy
and many more.. 
The Hornet can be performed in many various environments but does has some restrictions. Perfect for social media!!
Nicholas Lawrence Presents
$29.95
AVAILABLE NOW!! 
(Red Gimmick)

APOLLO is a realistic Finger through card & Restoration effect, that's ready to perform right out of the box!!
You'll Love performing Apollo LIVE and for Social Media. It is an excellent stand alone effect but also a great follow up to any Torn and Restored tricks..
 APOLLO GIMMICK INCLUDED
 Here's what happens… Grab a playing card and with your finger start to push on it.. Push and twist until your finger bursts through the center of the card!
 After this small feat of destruction, Cleanly display the ripped and frayed card impaled on your finger..
 Show the card 360 degrees with absolutely Nothing to hide!
 It's actually pierced..
 Remove your finger from card and display the destruction again briefly, then with a quick twirl of the card it instantly restores itself!
 Leaving No trace of the hole on either side of the card!
 Show the card front and back with nothing extra in your hands!
BONUS: Have a card chosen, lost in the deck.. then Spring the cards into the air and impale your finger through one card… remove the card form your finger and reveal it's their selection!! Then if the magic couldn't get any better.. you visually restore the card at your finger tips! 
 (This mechanical gimmick looks like a normal playing card from your audience perspective and only you know the secret.. Easily switch for an examinable duplicate card and end clean )
 Gimmick + 26 Minutes of Detailed instructions with Nicholas Lawrence & Worm!
MagicOrthodoxy review: https://youtu.be/EI_ZJalGRmY
Nicholas Lawrence Presents
$19.95 $29.95
 The Original Flying Pen Cap Effect.. Just Got Better!  
-A pen cap fly's through the air and cap's back onto the pen! Then have it examined! 

(Gimmicked Pen Included + 30 Minute Tutorial)
Pull out a pen, have it examined.. then teach your spectator a simple trick, hold the cap close to the pen then it snaps back to the pen..
Now.. this time you do it again but from a DISTANCE! Hold the cap and let go, it suddenly fly's through the air and re-cap's on to the pen from up to 3 feet away!
Immediately hand out the pen for examination without a Switch! No Sticky stuff or Fragile materials to break.. Repeat the effect, No Reset.
The gimmick is self contained and durable, perform with confidence! Nothing is attached to your body! 
BONUS: Learn the Original Distance
FREE DOMESTIC SHIPPING
Nicholas Lawrence Presents
$34.95
We've all seen and probably perform the classic pre-torn corner vanish to impossible location premise.. Well, it just got a serious upgrade!
Tear off a small corner of a playing card and make it vanish in the convincing way possible! Visually or with Cover it looks totally impossible.. 
your audience doesn't just imagine it like previous methods, they actually see the corner disappear!!
Everything that disappears needs to appear somewhere.. how about inside a sealed sugar packet!! Or under someone's watch.. inside of  their hand or even frozen inside a solid cube of ice!!
HANDMADE GIMMICK INCLUDED (NO DIY)
Not only do you receive your Bermuda gimmick ready to go, you learn how to make your own!! Learn how to perform Bermuda with any card with detailed customizable instructions included within the 40 minute tutorial.
Learn the main routine with 6 vanish variations!!
BONUS: Learn a Torn & Restored like never before!! This effect will take this classic effect to new heights!!
(A beautiful combination between sympathetic,Levitation and Restoration all in one effect!)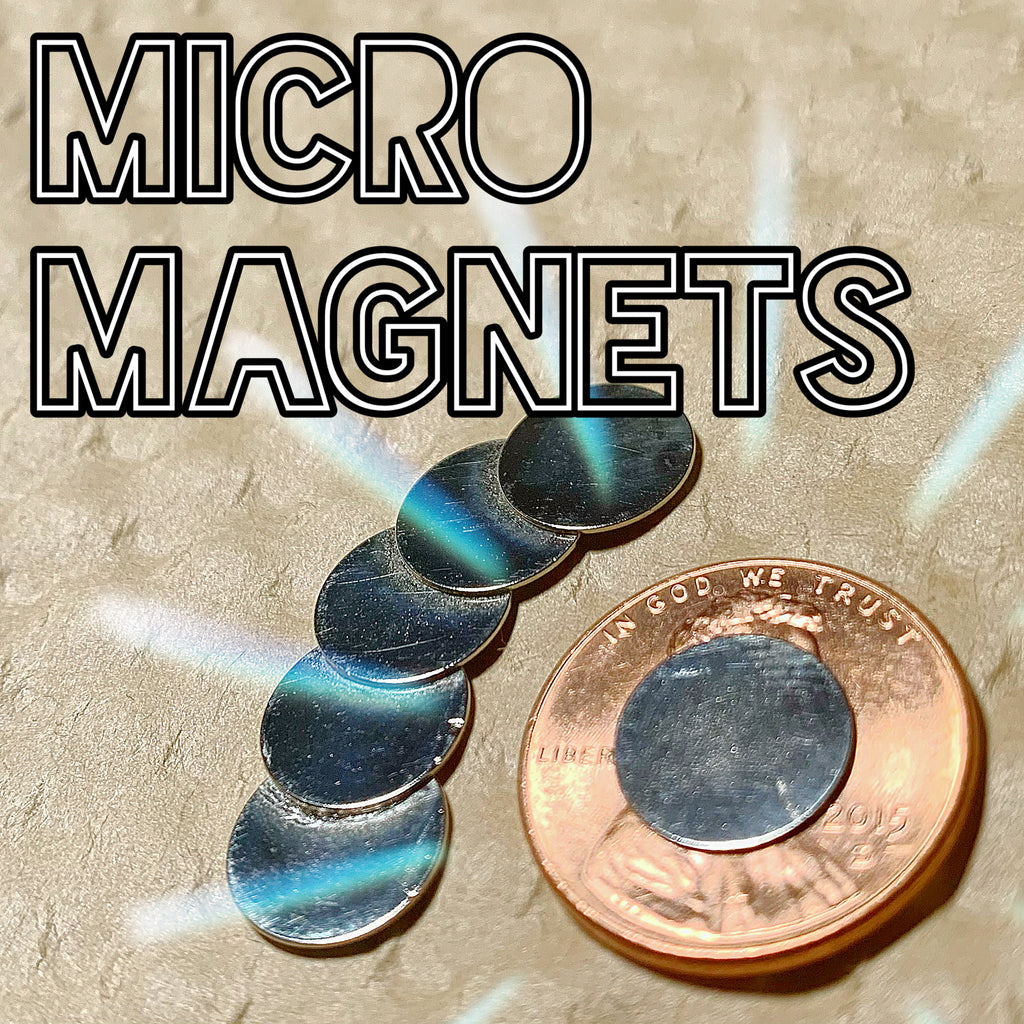 Nicholas Lawrence Presents
$12.95
15 Tiny circular magnets! Each magnet is 0.4 mm Thick and 10mm Diameter.. That's almost as thin as a standard playing card!
Ps. All the magnets in this photo are glued down, they are extremely strong and if they were not glued these magnets would be instantly attracted to one another.. I just thought the aesthetics of the photo was worth it.. 😂 
-Testimonials-
"A creative Force in close-up Magic!"
Shin Lim
"Nicholas empowers you with the tools needed for some of the most direct visual magic. Clever and creative."
Garrett Thomas
"Nicholas' work consistently delivers beautiful, highly visual impact effects on the level that all of us grew up wanting magic to have…His designs create what REAL magic would look like.."
Jason Latimer
Showcase up to six testimonials to build trust with potential customers.
Name
Role